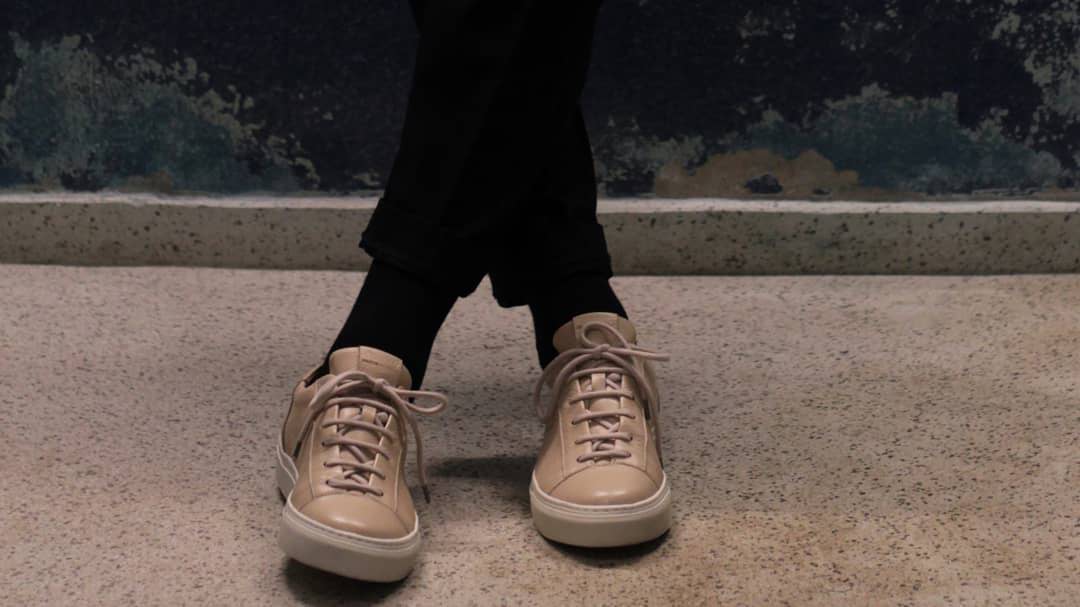 April is here and, as usual, it has brought the traditional showers of early Spring. It feels like sunny days are just around the corner but never quite really there. 'Tis the season when dressing becomes an endless saga - how does one keep up when every single day is cramed with all four seasons in a mere 24 hours?

Better to be safe than sorry. Winter boots may feel too heavy already, yet there are plenty of options to keep the socks dry while the feet remain stylish. This is our selection of adaptable shoes to cope with the season's typically tricky days.
Ankle boots with block heels are a safe bet when every day seems uncertain. These are by Palazzo VII, in a brown scaled texture that remains elegant both during office hours and leisure time. The leather composition ensures these are fit to face unexpected showers while the medium height of the heel makes them comfortable to wear all day long.
Liquid error: product form must be given a product
The ankle-height cousin to the trendy cowgirl boots, these are designed by Pallas in camel brown leather with lightning bolt shaped inserts. Rain is no excuse to loose style points and these are proof, with a cool pointed toe silhouette and medium block heel. As festival season approaches and the weather remains a giant question mark these are sure to keep rockin' the night away.

Lemon Jelly is already a trusted brand when it comes to having a lil' fun in the rain, thanks to the non-toxic PVC composition of their products. These are an iteration of the military boot in all black, with a matte finish that provides a distinct look. They provide a comfortable kick-ass style with everything from skirts to cropped trousers and feature a cute little utility pocket on the side.

Minimalist leather sneakers are the functional answer to rainy days. Designed by OrateOfficine, in a creamy pastel shade, these keep a cool, urban look whichever way they are styled. Perfect for a relaxed workwear vibe, for running errands around town, or simply to get coffee with friends, these meet all the requirements for city dwellers who need practical options to brave unreliable weather.

No need to match the grey mood of the skies: Freakloset presents a smart-looking option that adds a touch of brigtness to every day. These are a modernized version of the iconic derby shoe, in a classy design fit for workwear and leisure. In black leather with neoprene heel cap, these shield the feet from unexpected showers, while the mint-colored sole boosts up the rainiest of days.
More than a trend, chunky paneled runners are a statement piece with all the comfort that only a sporty shoe provides. Ambitious' version in multicolored leather effortlessly braves stormy days out and about. They earn extra cool points when styled with tailored or tapered trousers for a hybrid casual style.
Classic style sneakers in leather are a wardrobe staple for a reason: they endure just about any type of weather and look great with just about anything. This version by Exceed Shoe Thinkers comes in navy blue burnished leather with perforated panels and camel sole. Tuck in a pair of socks to be ready when the rain sneaks up on you.
The name says it: these derby shoes keep it classy through the uncertain Spring weather. Designed by Nobrand in paneled dark-hued leather, they feature broguing details for a neat, polished work style. Paired with chinos and a colorful pair of socks, they keep the feet dry and stylish all day long.
The unpredictability of early Spring weather makes one long for something versatile and simple to wear. This is the reason why black leather shoes exist: they favor everything from tailoring to relaxed wear. This option by LSQ Shoes is all-black in a minimalist design, making it a reliable option for all the events in line this season, whether it's business appointments, special occasions or casual hangouts.
An alternative to the bulkier Winter options, chukka boots grant protection and comfort. This robust pair by Orzhaus comes in a camel brown leather for an indie look. When it's grey outside and the coziness of home draws a magnetic spell, stick to the effortlessness of essentials and pair these with denim to get ready to face the day ahead.